Company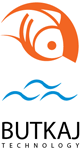 BUTKAJ TECHNOLOGY
From concept to delivery, your satisfaction is our only objective!
We listen, develop what you want or can offer creative ideas when requested, while delivering your project on time at very affordable rates. Since 2003, clients in the United States, Central and Western Europe have included the following (not all inclusive):
Familiar with the publishing industry, global markets, WiFi, PODs, and converging technologies as well as bilingual, we are experienced in supporting the following services while utilizing many programming languages:
Software Development

Outsourcing IT

Education

Organization Strategy

System Integration

Internet Security
Programming Languages
ASM

ASP

C/C++

COBOL

CSS

dBase

Delphi

Fortran

HTML

JAVA

JavaScript

JScript

MathML

MS SQL

MySQL

Object Pascal

Oracle

PERL

PHP/PHP5

PostgreSQL

SGML

SMIL

SQLite

SVG

Timed Text

VbScript

XML

XHTML

XPath

XSLT
What Clients Are Saying About Butkaj Technology
"We have been working with Butkaj Technology for almost a year. Butkaj Technology has been more than up to the task. They have been gracious, tenacious, responsive, patient, creative, and thoroughly professional throughout the project. They have been determined to get it right and have demonstrated that they have the skills and talent to do so. Most of our interaction has been through email and instant messages. There was absolutely no language or communication problem. We have worked with other programming teams, and Butkaj Technology is significantly superior in both ability and attitude."
Peter Robert, S&T Ltd
Butkaj Technology's Founder
Born in Slovakia in 1979, Andy Butkaj, BSc / MSc, graduated from Slovak University of Technology with a Masters degree in engineering. In addition to founding Butkaj Technology, he is a faculty member in SUT's Electrical Engineering and Information Technology departments. A high achiever with a track record, he holds the unusual distinction of traversing the space between that of a software developer and entrepreneur. In addition to his clientele, he oversees the company's latest cutting-edge projects that include Mobipocket Conversion Services for eBooks and eMedia and developing POD content for mobile phone users worldwide.