Champions of Chaos 2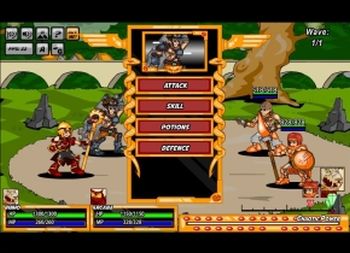 Champions of Chaos 2
uploaded by
TopRq.com
Category:
strategy
Rating:
5
/ 5 with
54
votes
Game Plays:
1620
Published:
Add game to your website:
Hide Description
Join the rebel army and improve your reputation enough that neighbouring kingdoms pledge to your cause. With a heavy focus on grinding and strategy, Champions of Chaos 2 is a simple yet surprisingly engaging RPG. It is arena turn based game where the player can combine up to 10 different classes in a two man party to fight waves of enemies and gain reputation and allies. In each kingdom, you'll have to battle your enemies to prove your worth to the area's ruler. The battle system combine elements of "Grandia" and final fantasy with "Marvel vs Capcom" special moves. You lead a two character party of ambassadors, warriors of the rebel forces, looking to make an alliance with the free nations of the west in order to have the military power to fight back the advancing dark emperor forces. To win the trust of the leaders of the nations of the west you must show your people strength in the different arenas of their nations.
Use your Mouse to choose the action you want to execute from the menu that appears. Then left mouse button click on whoever you want to perform this action. Train brave warriors and you have to watch your hit points, magic points and Chaos bar that fills with every action, and will allow you to summon your character class Totemic Beast when it's full. Play with huge assortment of warriors, wizards, mages, paladins. Learn many skills, buy upgrades, regenerate your mana and health. Build your reputation and don't forget to buy a pair of skimpy cheerleaders who confer various bonuses on you during battle. Fight zombies in the graveyard to earn more experience points.

Size: 19559105 Bytes
Loading...