Clan Wars - The Green Goblins Forest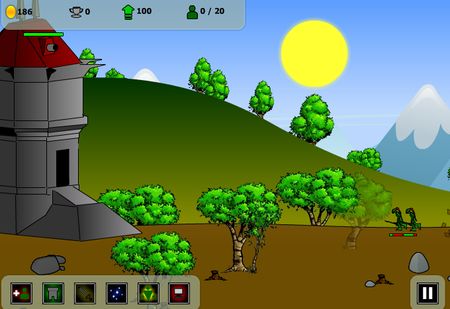 Clan Wars - The Green Goblins Forest
uploaded by
TopRq.com
Category:
strategy
Rating:
5
/ 5 with
117
votes
Game Plays:
3502
Published:
Add game to your website:
Hide Description
After the Great Battle between the Orcs and Humans had ended the Hordes disbanded leaving behind a vast area of land that was now war torn and pillaged. Thousands of Goblins that were once slaves to the Orc Horde were released from their obligations and soon spread across the abandoned land to develop new Strongholds of their own. It was a time of great prosperity, trade was established and many Goblin Clans began to become rich and powerful. Later the other clans become rich and powerful. With riches came pride and as the pride of clans increased so did the lust for power. Soon the clans turned to challenge other clans to fight for the land again.

Clan wars is a strategy game that requires timely offense against the opposing Stronghold while defending your own at all costs. If it is destroyed then you will lose the game. There is a cannon fixed that helps you. On the other side of the river is your opponent's Stronghold and you must destroy it to win the game.
Nobody wants to give in, so gather your army, improve your equipment and smash the enemy's castle. There is in-game tutorial.
It is necessary to purchase and upgrade units and your stronghold. You can earn gold by killing units. You also have small constant income this increases as your reputation for bravely kills goes up. Experience is gained when killing the other team's goblins and is required to unlock skills and units. To navigate the battle field you can either use Left/Right arrow keys or A/D or use the mouse at the edges of the screen.

Size: 3881974 Bytes
Loading...